24 February 2020
BS7 Gym are delighted to announce the introduction of our first ever pre & post-natal spin class.
The spin class will be taking place on Fridays at 09:15 – 10:00. The first session will commence on Friday 28th February.
Are you pregnant or just given birth but want to continue your training? Then book into our pre & post-natal spin class and bring your child with you for the perfect mother/baby workout. Please note, your child can't be crawling or walking for this class.
Our classes will be run by Linda Rogers who is one of our newest personal trainers at BS7 Gym. Linda spcialises in professional pre- and post-natal training. For more information on Linda, click here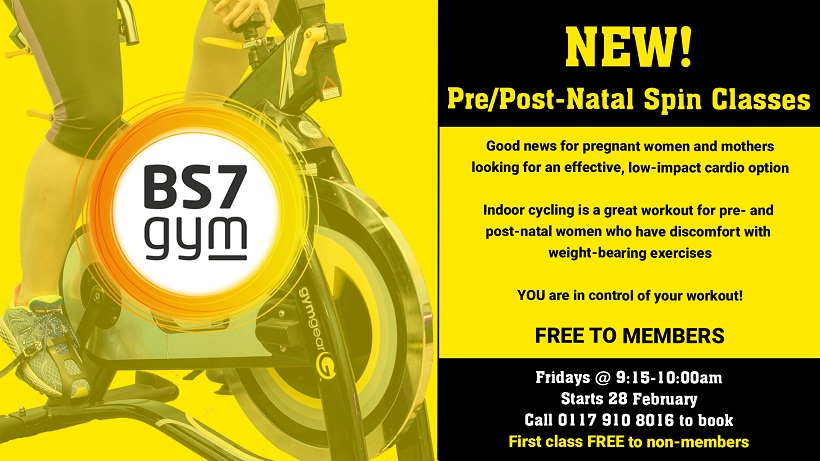 To book a class, please call us on 0117 910 8016 or email gym@bs7gym.co.uk
These classes are included as part of a BS7 Gym Membership.
If you are not a member but wish to attend, we are pleased to announce that the first class will be FREE to attend.
We look forward to seeing you in the Gym!
More information on our pre & post-natal spin class
Pre & post-natal indoor cycling is a form of exercise with classes focusing on endurance and strength, intervals, moderate intensity and plenty of recovery on a stationary bike. You are in control of your work out and options will be given depending on how pre- or post-natal you are.

Good news for pregnant women looking for an effective, low-impact cardio option: Indoor cycling while pregnant is considered safe for most women through the whole duration of their pregnancy.
It is a great workout for Pre & post-natal women who have discomfort with weight-bearing exercises since riding on a cycling bike takes the weight off the body.
---
BS7 Gym Membership – Join Today
BS7 Gym provides a high-quality exercise facility for members of the community alongside Gloucestershire cricket professionals based in Bishopston, just off Gloucester Road.