Linda Rogers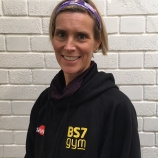 Having been passionate about health and fitness all my life, I decided to take a change in career and retrain as a fitness professional specialising in Pre and Postnatal training.
As I have run several marathons, 10k and 5k races, competed in an ironman and various other triathlons alongside becoming a mum of 2, I wanted to inspire and help others achieve their fitness goals.
Continuing with my Professional development I am also qualified in Group circuit training, Padwork and studio cycling.
Just remember you can do more than you think you can!
"Exercise without a plan is just a workout. Exercise with a plan and purpose is effective training"
To find out how I can help you reach your goals with a personal training programme, please ask at reception or find me on the gym floor.