Rory Howard-Kyan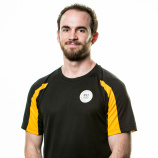 It is a pleasure to be able to meet people from all walks of life and help them achieve their health and fitness goals. For me there is nothing better than to motivate people to get more physically active and most importantly, lay the foundations to maintain and embrace their fitness for the long term.
I have a lot of experience in functional training which keeps me fit and ready to take on all challenges thrown my way.
Whatever your goals are, be it weight-loss, building strength/muscle or to improve your cardio I will devise the training plan that will best work for you.
CrossFit Level 1 Trainer
To find out how I can help you reach your goals with a personal training programme, please ask at reception or find me on the gym floor.