Nick Banks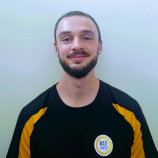 With plenty of experience in fat loss and physique development, I am here to help you navigate today's confusing fitness landscape to the destination you've always strived for.
With over ten years of training under my belt, I have gained extracurricular knowledge in fitness and client psychology from mentors around the world. Today, all of that is backed by a Level 2 & 3 PT qualification, with many more feathers in my cap yet to come.
After a freak medical incident nearly took my life, I am more driven than ever to deliver quality coaching to those who need it. It was my strong heart from a gym lifestyle that saved my life so I see training you as potentially saving your life in the future!
Losing your fire in your fitness journey? That's exactly when we should speak to a professional. Let's see how I can help. If you haven't already, take advantage of our one-off free 1-1 PT session and put me to the test.