Esther Hadrill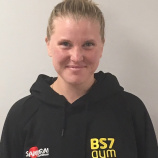 I was always very active as a kid. I played hockey for my local team, did a lot of swimming and enjoyed a variety of dance styles. When I finished school, I started my working career in fitness back home in Germany. After my qualification as a Fitness Instructor, I also got a level 2 Sport therapy qualification.
Once qualified I worked for several years in a variety of gyms, leisure center and sport centers to teach fitness classes, working on the gym floor as well as doing GP referrals. I most enjoyed teaching classes and as it turns out the GP Referrals were my best experience. Over the years I learned a lot from teaching classes and being involved in fitness.
Since moving to the UK I have also achieved a Level 3 Personal Trainer qualification and am excited to continue developing my experience delivering Personal Training sessions.
I am a very honest and friendly person, so please, do not hesitate to get in contact with me.