Vicky Koumourtzi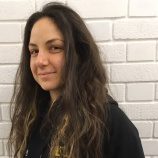 Throughout my life I have enjoyed a range of fitness activities including running, cycling, yoga, crossfit and dancing. Back in Greece, I used to dive and swim regularly in the beautiful weather!
As an outgoing people person, a career in the fitness industry was always going to be my calling. I always keep developing myself through self-study, practice and courses such as kettlebells, HIIT and weightlifting. I am here to motivate you and make a new lifestyle for you a long-term reality. Whatever your goals, I am here to help you reach your target and feel great doing it!!
To find out how I can help you reach your goals with a personal training programme, please ask at reception or find me on the gym floor.