Serena Settembri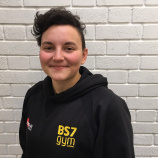 Back in Italy, I did lot of different sports until I started playing rugby and I fell in love with it from the first moment! I got closer to the world of fitness through rugby which led me to train in the gym for the first time when I was a teenager.
Rugby also led me to move to England too, where I play for Bristol Bears.
One of the things I like the most is to challenge myself and to help make my clients feel the same! I like to show people that the fitness world is full of life-changing opportunities and that they are able to do everything, even things they never thought they could!
I wanted to qualify as a personal trainer mostly because I like to help people overcome their limits, both mental and physical, having fun!
To find out how I can help you reach your goals with a personal training programme, please ask at reception or find me on the gym floor.