Rob Beer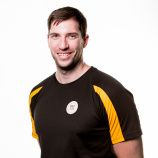 Health and fitness has been a big part of my life since an early age. As a both a junior and senior athlete I enjoyed training and competing at international competitions in the sport of canoe sprint.
Now retired from the sport I want to share my knowledge and training styles with others, and help people discover both the mental and physical benefits of exercise.
I enjoy training both individuals and teaching a variety of classes at BS7 gym. Motivating people and being part of a member's fitness journey, no matter what their goal, is what ultimately makes my job so rewarding.
I am always keen to expand my health and fitness knowledge and to this end I have completed a range of additional fitness courses and gained specialist knowledge in kettle bells, core stability, pad work for PT and even fascial movement taping.
I can often be found in the gym where I particularly enjoy weight training and cardio as well as all other forms of exercise such as HIIT.
To find out how I can help you reach your goals with a personal training programme, please ask at reception or find me on the gym floor.