Joel Allen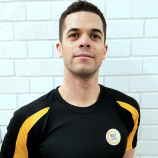 For me, exercise and living a fit and healthy lifestyle is important - not just physically, but also for improving confidence, mental strength and resilience as a whole.
That's why, after a successful career I retrained as a PT so I could help others feel great too. I combine a passion for sport and nutrition with a drive to help others achieve their goals - whatever those goals may be.
My background is diverse and I'm currently pursuing interests in Obstacle Course Racing, Crossfit and weightlifting. I have further experience in group training, boxing, pad work and Strength & Conditioning.
My knowledge and experience enable me to help others lose weight, tone up, build muscle and improve sports performance. I'm here to help you become a fitter, healthier, happier 'you'.
Exercise should be challenging, but above all else it should be fun. I'm looking forward to putting you through your paces and helping you to achieve your goals.
---
To find out how I can help you reach your goals with a personal training programme, please ask at reception or find me on the gym floor.