Joe Marx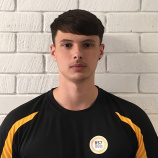 After numerous years of fitness being a big part of my life and loved passion, I decided to turn it into a career. As someone who is a regular gym user, I understand the challenges to hit your goals. From a young age I have always loved competing in various sports such as Basketball, Football and Rugby.
My aim is to help you achieve your goals through your training, having had experiences with different types of training; Powerlifting & Bodybuilding I am confident with building training sessions around an individual's preferences. I have a background in sports therapy which has provided me with a vast knowledge on Human anatomy.
Specialities –Strength Gain, Bodybuilding, Weight Loss.