Jessy Sanchez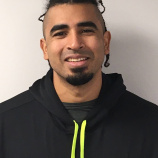 I have been a certified personal trainer since the age of 18 from sunny Los Angeles, California. I have over 14 years of experience training at different sports clubs and studios as well as several secondary schools as a level 2 strength and conditioning coach.
My clients have ranged from young school kids, Hollywood celebrities, pro athletes, to the elderly in their 80's. I've helped my clients lose weight and bodyfat, gain strength and speed, avoid injury, improve mobility and flexibility while helping them transition to a healthier lifestyle.
I have excelled in team environments which I integrate into my group fitness classes. Graduated from Washington State University in the U.S. with two Bachelors degrees and was a scholarship football player (American football that is) I recently finished backpacking the world in which I visited 46 countries in a span of 2.5 years teaching physical education at several non-profit organizations.
During my travels I also took my love for running and completed 14 marathons in different countries as well as competing in obstacle course racing. My passion has always been helping others while encouraging them to achieve their fitness goals. Hopefully I can help many more at BS7 gym while making it fun during the entire process.