James Maby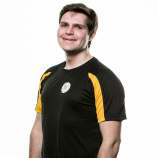 Having lost 3 stone in 9 months and completely overhauling my lifestyle, I know how to help people achieve the same, having empathy and an understanding of how hard it can be to start, but also keep going.
My experience working as a PT in London has taught me that no two people are the same and that everyone has differing motivators to get fitter tone up. It could be recovering from a knee injury, which I've also been through myself, or just wanting to improve overall health by losing body fat.
I'm a rugby referee and a keen cricketer, so am well aware of how important a social life is in a healthy life style. Lots of people will try and tell you that you need to avoid socialising to lose weight, but I can show you exactly how to manage your nutrition and training to enjoy your life, yet achieving outstanding results.
To find out how I can help you reach your goals with a personal training programme, please ask at reception or find me on the gym floor.