Isaac Harrison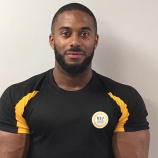 To give you a quick insight into my background, from a very young age I have been involved with athletics, martial arts and weight lifting.
I have been working in the fitness industry now for more years than I'd like to admit! During this time I have helped a multitude of clients achieve their goals in fields including weight loss, developing confidence, improving exercise knowledge and technique and competitive bodybuilding.
Fitness is a true passion for me, the achievements and progression I witness from my client's is a great feeling.
To find out how I can help you reach your goals with a personal training programme, please ask at reception or find me on the gym floor.