Emily Short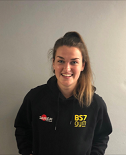 Having previous experience in dedicating my life to sport, fitness and health; as it was necessary to be an England National Women's Basketball player. I grew a real interest in the ability to change bodies to become healthier and more efficient to improve lifestyles through exercise and nutrition.
I have a passion for helping people improve their health and well-being through functional fitness training and balanced nutrition to find day-to-day activities easier, enhancing the quality of lives. Alongside this, I have expertise in defining physiques for people who are interested in achieving a more aesthetic goal.
All training sessions with me are unique to your own fitness and health goals as you define your own wellness, I'm just there to guide you!