Adam Galway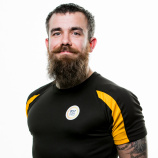 Adam Galway founded Cheltenham's 'HIIT Club' in 2015 that is now expanding to Bristol at BS7 Gym.
Adam is a fully qualified fitness and martial arts coach and enthusiast. He provides coaching for adults and children looking to improve their physical and mental condition through martial arts, strength and high intensity interval training.

"As a proud and dedicated father, I wanted to learn as much as I could with regards to physical conditioning and self-defence, so I could pass on my knowledge to my children, thereby helping to keep them safe in the sometimes scary world that we live in.
That's how it started anyway! After 3 years of training as a martial artist, I decided to get a qualification in personal training, so that I could turn my passion into a rewarding career. Seven years later, I've helped countless people achieve their goals across Gloucestershire. Whether they wanted to get stronger, learn self-defence, lose fat, build confidence or just generally be fitter and healthier, I've managed to succeed with every client that came to me and followed my advice and put the effort in. I love my job as every day I get to help people to make their dreams a reality."
To find out how I can help you reach your goals with a personal training programme, please ask at reception or find me on the gym floor.